6th International Consensus Conference on Concussion in Sport
IMPORTANT NOTICE

The 6th International Consensus Conference on Concussion in Sport has had to be postponed due to the Covid pandemic.
It is now scheduled to proceed in late 2022.
Further information from this meeting will be updated at that time.

———————————————————————————————————————————
Berlin Concussion Meeting

Gavin Davis was an integral member of the 5th International Consensus Meeting on Concussion in Sport in Berlin, Germany, October 2016.
The summary of the meeting, the Berlin Consensus Statement, reflects the current state of knowledge intended to inform clinical practice.

A number of new tools were also developed, including the SCAT5, Child SCAT5 and the most important tool,
the CRT5 (Concussion Recognition Tool 5).
Click here for more information.
Sport related Concussion is extremely common in adults, adolescents and children. Most people with sport related concussion will have resolution of symptoms in a relatively short time. However, some people with concussion have a longer recovery period. If the athlete returns to sport whilst still symptomatic, the athlete places him/herself at potential risk of long term injury or severe damage to the brain.
If in doubt, sit them out - all athletes with possible or suspected concussion must be removed from the field/track, and are not to return to training or game-play. That is to say - there is NO RETURN TO PLAY ON THE DAY.


All coaches, trainers, umpires/referees, team officials, players, school teachers, and sports-supervisors must ensure that they have an appropriate concussion management plan, and know how to implement the plan during training, game-day and during the off-season.
Schools and sporting clubs that have a Concussion Management Plan in place before an athlete sustains a concussion tend to have improved outcomes in the event that any athlete sustains a concussion.
ALL Schools and Sporting Clubs should develop, implement and regularly review their Concussion Management Plan.
Most athletes with concussion may be managed by their team doctor or local Medical Practitioner.
However, certain athletes require more
comprehensive concussion management
, such as :

Prolonged symptoms

Multiple / recurrent concussions

Concussions with minimal impact force

Children

Students - School / University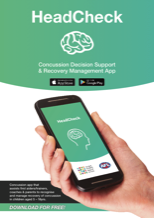 HeadCheck is an App for Smartphones to help assist with the management of Children and Adolescents with concussion.
For more information
click here

Professor Gavin Davis provides an Expert,
Comprehensive Concussion Management Programme
. If you require an Expert Concussion Assessment, appointments may be
made here.

When making the appointment, please inform the receptionist that the appointment is for a detailed concussion assessment.
The management of concussion in sport should follow the recommendations of the International Concussion in Sport Group (CISG). The most recent CISG recommendations, co-authored by Gavin Davis, were published in the British Journal of Sports Medicine (BJSM) in June 2017 (Volume 51, issues 11 and 12), following the consensus meeting held in Berlin in October 2016.
For information on the
Consensus Statement
click here
.
To download the full BJSM supplement, including the Systematic Review papers,
click here
.

In addition to the Consensus Statement, the CISG published tools to assist in the management of concussion:


For Medical Practitioners:

•
SCAT5
- Sport Concussion Assessment Tool - 5th edition. For use in all athletes aged 13 years and over.
•
Child SCAT5
Child Sport Concussion Assessment Tool - 5th edition. For use in all child athletes aged 5 - 12 years.


For Everyone:

•
CRT5
- Pocket Concussion Recognition Tool - 5th edition.

To access these tools
click here
.
The Australian Football League (AFL) has developed a series of publications to assist in the management of concussion, for footballers at all levels of competition, including professional, amateur and junior leagues. Gavin Davis co-authored these guidelines, and strongly recommends their implementation for all football competitions. The practical management guidelines outlined in these documents may also be applied to other sports.
These
guidelines
may be downloaded
here
.
For more information on the AFL Community Concussion recommendations,
click here.